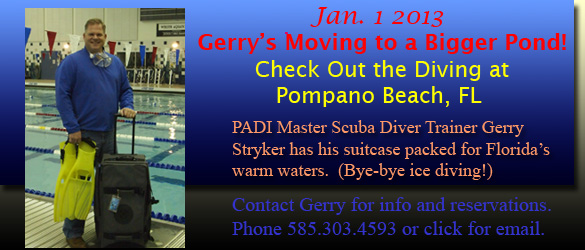 Travel with Stryker Scuba

Cozumel

Belize

Seahorse - Gerry's Best!

Man with Shark

French Angel Fish

Are You Ready for This?

Photos Courtesy of Gerald Stryker.
DPV - Diver Propulsion Vehicle
Learn to use a DPV - you'll go faster with less effort. Take a DPV and race through our underwater obstacle course. After you've mastered the skills needed to navigate our course, you'll find that you can go further and see more when you return to open water touring.
| | | |
| --- | --- | --- |
| | | |
| Learning to navigate the course. | | The object is to go through the hoop. |
| | | |
| Form improves with practice ... | | and the race is on! |
Contact Gerry by e-Mail
Phone - 585.303.4593
Fax - 585.473.8856
(Address site questions
to the Webmaster.)
©2013, Stryker
Scuba Adventures,
All rights reserved.
v19_03.29.13