Stryker Scuba Calendar
Dive and Travel with Stryker Scuba


2012

Aqua-Missions

Keuka Lake Dive

Scuba Cruise*

TuTurks & CaicosCaicos

2011

Little Cayman

Grand Cayman

*Under evaluation.
KEUKA LAKE DIVE Charter - Saturday, Aug. 25 at North End Marina, Branchport, NY.
Cost $65./diver for 2-tank boat dives. Divers are responsible for all equipment, weights and 2 tanks (available at cost).
2 DIVES -

One will be a wreck dive of an early 1900's sail boat.
Second will be a dive on a 70' barge or a Moel-T Ford.
Phone Gerry for details: 585-303-4593.
AQUA-MISSIONS - at Webster Aquatic Center (WAC) on Fridays, 5:30pm - 8:00pm.
Bring a friend to enjoy Scuba diving - Try Discover Scuba! ($45. with full gear.)
Cost: $65.00 for divers (incl. 1 tank and weights), $25 extra for BCD.
For Friday Sessions:
5:30 - 6:00 pm - Dive briefing and equipment setup.
6:00 - 8:00 pm - Enter an Olympic size pool at Webster H. S.
| Dates | 2012, Winter/Spring Aqua-Missions, plus Discover Scuba. |
| --- | --- |
| Jan. 13 (Fri) | Dive Fitness Training. See how to get fit for diving. Snow day. Postponed. |
| Feb. 10 (Fri) | Dive Fitness Training. Rescheduled. |
| Mar 09 (Fri) | Expreience underwater construction - build the Space Shuttle Columbia. |
| Apr 20 (Fri) | Diver Propulsion Vehicles (DPV) and Rebreathers. |
| May 18 (Fri) | Full Mask U/W Communications and Debut of the Whale Shark. |
| Jun 22 (Fri) | Mission to be announced. |
DISCOVER SCUBA - Come and join in on the fun during any of our Aqua Missions, 5 - 6pm.
Experience the fun and excitement of Scuba Diving - $45. for adults and children 10 years and older, with full gear, in the Webster Aquatic Center pool. Phone Gerry for other available dates.

DIVE TRAVEL - 2012 Scuba Travel to be announced soon. Watch this site.

SCUBA CERTIFICATION - PADI Certification classes will begin soon. Classes are conducted in May and June. Open Water Certification and Speciality classes will be conducted on scenic Keuka Lake.
eMail or phone Gerry for details and registration (585-303-4593) for 2012 PADI certification.
PADI Certification Schedule - 2012

Day

Date

Time

Classroom and Pool

Description

Fri.

4/27/12

6:30-9:30 pm

Brighton H. S. Pool

Knowledge Review / Pool Session

Fri.

5/4/12

6:30-9:30 pm

Brighton H. S. Pool

Knowledge Review / Pool Session

Fri.

5/11/12

6:30-9:30 pm

Brighton H. S. Pool

Knowledge Review / Pool Session

TBD

Classroom Session

Read Assignment

Open Water Certification

Wkend
June, TBD

8:30-12:30

Keuka Lake State Park

Open Water Session
------------
------------
ADVANCE OPEN WATER (AOW) Course -
5 Introductory Specialties are required, including peak performance buoyancy and navigation.
Other 3 specialties can include Wreck Diving, Photography, Videography, Night Diving, and Fish ID.
Total cost for AOW is $395. Contact Gerry for details and materials.
SEAL TEAM PROGRAM (for kids ages 8 - 10, parents and grandparents are encouraged to participate), $190. per student.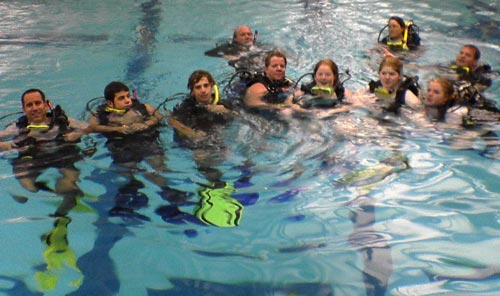 PADI instructor Stryker (back row, right, just keeping his head above water) and a recent class finishing their pool session. Gerry, are you properly weighted?





Contact Gerry by e-Mail
Phone - (585)303-4593
FAX - (585)473-8856
©2011, Stryker
Scuba Adventures,
All rights reserved.
v05.10,2011